Create an unforgettable Backyard Wedding
Bringing the perfect combination of elements together for a stylish yet budget-conscious backyard soirée …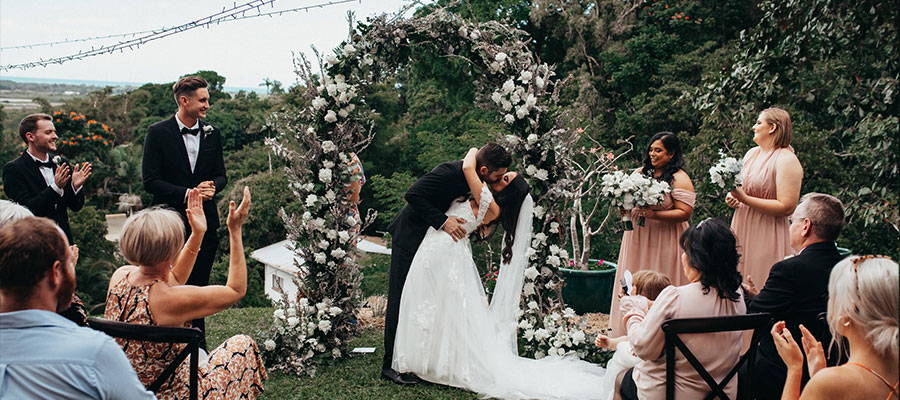 A backyard wedding is a great choice for couples who want the unique sensations of getting married in the open air, while also wishing to be surrounded by family, homely feels, and a comfortable, familiar setting.
These kinds of weddings are sentimental and magical all at once, as well as being highly cost-effective and convenient too. This in-depth guide to backyard weddings will tell you all you need to know.
Here are just a few benefits of choosing a backyard wedding:
Personal. With a backyard wedding, you'll be able to say "I do" in a cosy and comfortable place where you feel right at home, able to customise the area however you like to suit your personal tastes and preferences.
Convenient. Having your own backyard venue gives you a lot of freedom. It allows you to pick any date you like for the wedding, not have to worry about any rules or regulations, and have all the conveniences of the family home right next door.
Cost-Effective. You'll definitely save money if you elect to celebrate your union at the home of family or friends, as all of the venue costs are eliminated right away. You'll still need to rent furniture and other items, but the savings will outweigh any expense.
With a backyard wedding you will be able to say "I do" in a comfortable, relaxed and loving environment tailored exactly to your personal taste, ensuring your special day is sentimental and magical all at once.
Backyard weddings can be magical, but they need a lot of planning and prep. Here are some key aspects to consider:
Rentals. You'll need to find some trusted suppliers to jazz up your backyard with unique pieces of furniture and lovely decorations.
Facilities. If you're having a sizeable celebration with a lot of guests, one or two bathrooms in the house might not be enough and you'll need to find some extra toilets.
Setup. Your backyard will be your venue, so you'll need to prepare in advance with landscaping and gardening to give it a real glow, as well as making sure the lawn is neat and the ground is level for tents, stages, tables, and more.
The Legal Side. You may need to check with city officials regarding the regulations of hosting large parties, as well as contacting your home insurance provider to learn about what's covered in case any damage occurs during the party.
Neighbours. Let your neighbours know that a big celebration is planned to avoid any clashes too. Parking - If you're having a lot of guests over, the street might not be big enough for their cars, so hiring a local valet service can be a good option.
Cleaning. At the end of the event, you'll have a lot of trash to clean up, and even during the wedding, it pays to have people emptying bins and tidying to prevent the place from getting messy.
Elevate your settings .
Draping greenery over a neutral palette creating an added softness and natural splendour while using string lights for ambiance and intemacy