Real Wedding -- Jodie & Geoff -- Little Mulgrave Valley, Cairns QLD
Classic Hamptons meets the tropics, with cane farms and mountains as the backdrop…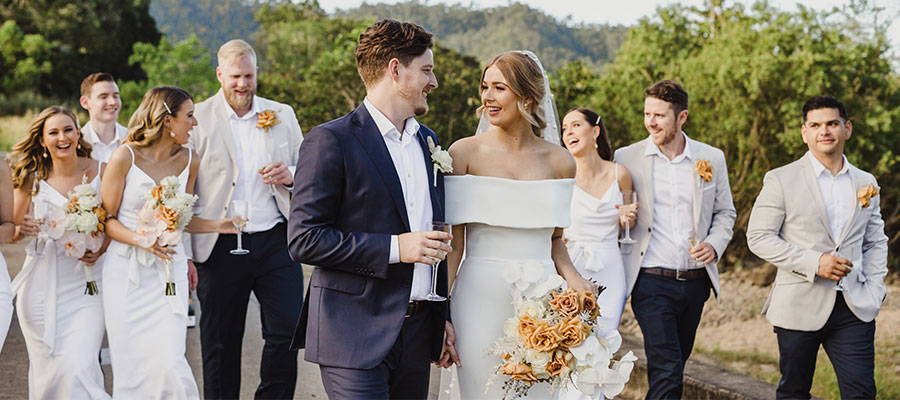 Jodie and Geoff spent their first date having a romantic little picnic, surrounded by nature. Ten years of love and happiness passed before Geoff decided to recreate that very first date in the couple's own lounge room.
It was at that moment that Geoff also decided to ask Jodie to be his wife. She happily obliged, and the pair set to work in planning their perfect wedding.
When. 13 July 2019
Where. Laloli - private country garden, Little Mulgrave Valley, Cairns Tropical North Queensland
The Theme. Jodie and Geoff decided to carry on their picnic tradition right into their wedding, having a picnic for their engagement shoot and then planning the biggest possible picnic for the wedding itself.
Rather than simply opting for something fancy or frilly, or choosing a theme that didn't really resonate with them and their story, Geoff and Jodie made the decision to choose a theme that had truly special significance for their partnership, and it proved to be a magical experience for all their guests as well.
For Jodie and Geoff, putting on the biggest possible picnic in the luxurious setting of the Little Mulgrave Valley in Cairns was quite a logistical challenge, and they had to make sure they found the right local suppliers to meet their needs.
They chose a dreamy venue that served as a 'blank canvas' with a large lawn and lots of wide, open space for the couple to fill with all the furnishings and decorations they could find from the suppliers they were working with.
Jodie says that all the effort and hard work paid off when she saw the expressions of her father and Geoff himself as she stepped out in her dress for the very first time.
When the big day finally arrived, Jodie and Geoff were thrilled to welcome their guests along to their magical venue, prepared with love and care by the couple themselves and their team of hardworking friends, family, and trusted suppliers.
Geoff will never forget the sense of pride he felt upon seeing his beautiful bride walk down the aisle, and the elated guests all had a wonderful time in this fantastic wedding of denim jackets, giant teepees, and gorgeous white furnishings.
For Jodie, seeing Geoff's and her Dad's reaction as she walked down the aisle made
all the hard work absolutely worth it